Special Delivery: Love Note by Lella Boutique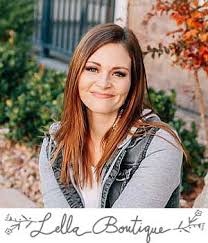 Dreamy florals, sweet pastel tones, and precious antique books pages are all included in this whimsical collection that will absolutely warm your heart. This gorgeous printed ensemble of fabric is a "love note" to designer Vanessa Goertzen's grandmother, Marguerite, and embodies some of her very favourite things, including gardening and painting. Watercolor-esque roses and daisies are arranged on cozy backgrounds of darling pinks, blues, and greens. Goertzen states that every collection she creates "tells a story," and this collection is clearly a love story featuring Marguerite. 
Literary lovers will also spot printed pages of an antique copy of Rose in Bloom by author Louisa May Alcott, a favourite of the designer's grandmother. Most famous for her world-wide classic, Little Women, Alcott filled many of her other novels with similarly captivating characters, such as Rose, the title character of Rose in Bloom. Published in 1876, the novel was released as a sequel to Eight Cousins, another popular story to emerge just a few years after Alcott's success with Little Women. Rose in Bloom explores the life of a young woman navigating her way through Civil War era society and complicated relationships with potential suitors. Alcott wove many of her reoccurring universal themes into the plot of Rose in Bloom, including those of family loyalty, love, independence, and growth– which makes the pages of this beloved book an even more beautifully suited embellishment to the Love Note collection. The title page of the novel is included in Lella Boutique's design, and Alcott's preface–placed just above a delicate illustration of Rose in a floral ballgown, carrying her parasol– explains how the goal of her novel is to "afford some amusement, and perhaps here and there a helpful hint, to other roses getting ready to bloom." This sentiment, along with its antique printed type, lends a charming heirloom quality to the fabric collection, elegantly complementing the pink painterly roses that bloom across several of the corresponding prints.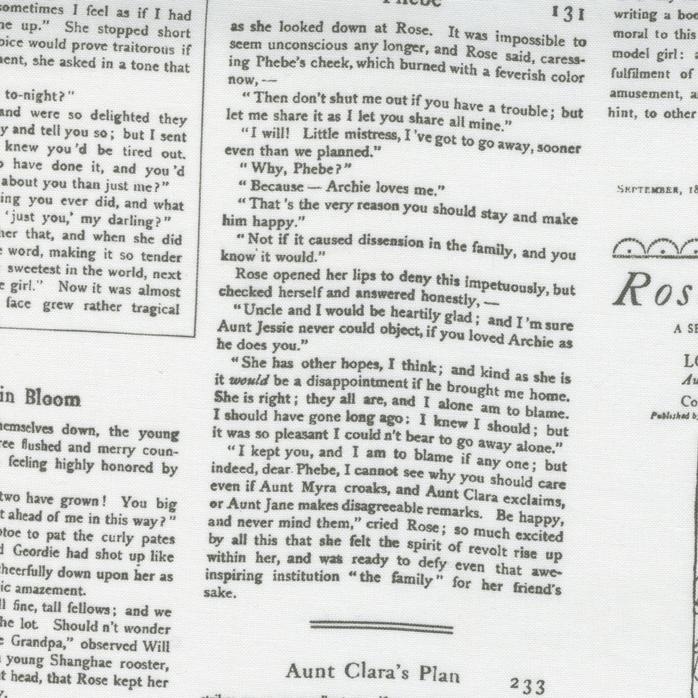 The pastel and earthy tones in this fabric collection make it easy to incorporate warmth into any project year-round, but they are especially suited for springtime creations. The large rose print is available in different colourways of olive, grass, sweet pink, and dove (a lovely natural beige tone). The daisy print in the collection has even more background choices with olive, cloud, dusty sky, sweet pink, and dove. Rose in Bloom text is printed onto the cloud, dusty sky, and dove background options. There are also corresponding smaller prints in the collection that include sweet tiny hearts, stripes, and a dainty chevron-like pattern in the same colours.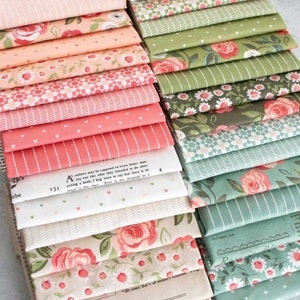 The potential of this collection is as limitless as a field of wildflowers in spring. Each of these designs, either on their own or in conjunction with their fellow Love Note fabrics, are eagerly awaiting the chance to be fashioned into quilts, garments, and crafts with a vintage flair. Who wouldn't love a rosey new tote bag with antique book page handles?  Even if you don't have a specific project in mind at the moment, one will inevitably come to you while simply admiring the Love Note prints. The charming aesthetic of these Moda cottons make them the perfect choice for whatever your next work of art may be. 
 Moda Fabrics and Supplies has been in operation since 1975 and ships directly to retailers from their warehouse in Dallas, Texas. In addition to their in-house team of designers, they also work with talented independent designers, such as Lella Boutique, to keep their collections fresh and enticing to fabric lovers everywhere. Moda is known for their eye-catchingly bright designs like the ones featured in Love Note, and the company takes extra precautions during its fabric production process in order to ensure color-fastness in their 100% cotton fabrics. Quilters, be assured that your Moda fabric projects will retain their vibrancy and durability for many years to come. Love Note's designer, Vanessa Goertzen of Lella Boutique, has been designing for Moda Fabrics since 2013. Her engaging colour palette and vintage-inspired designs, such as those evident in her Love Note collection, are a perfect match for Moda's high quality materials.The Tulip Shop flower quilt by Vanessa Goertzen. Fabric is Love Note by Lella Boutique for Moda Fabrics.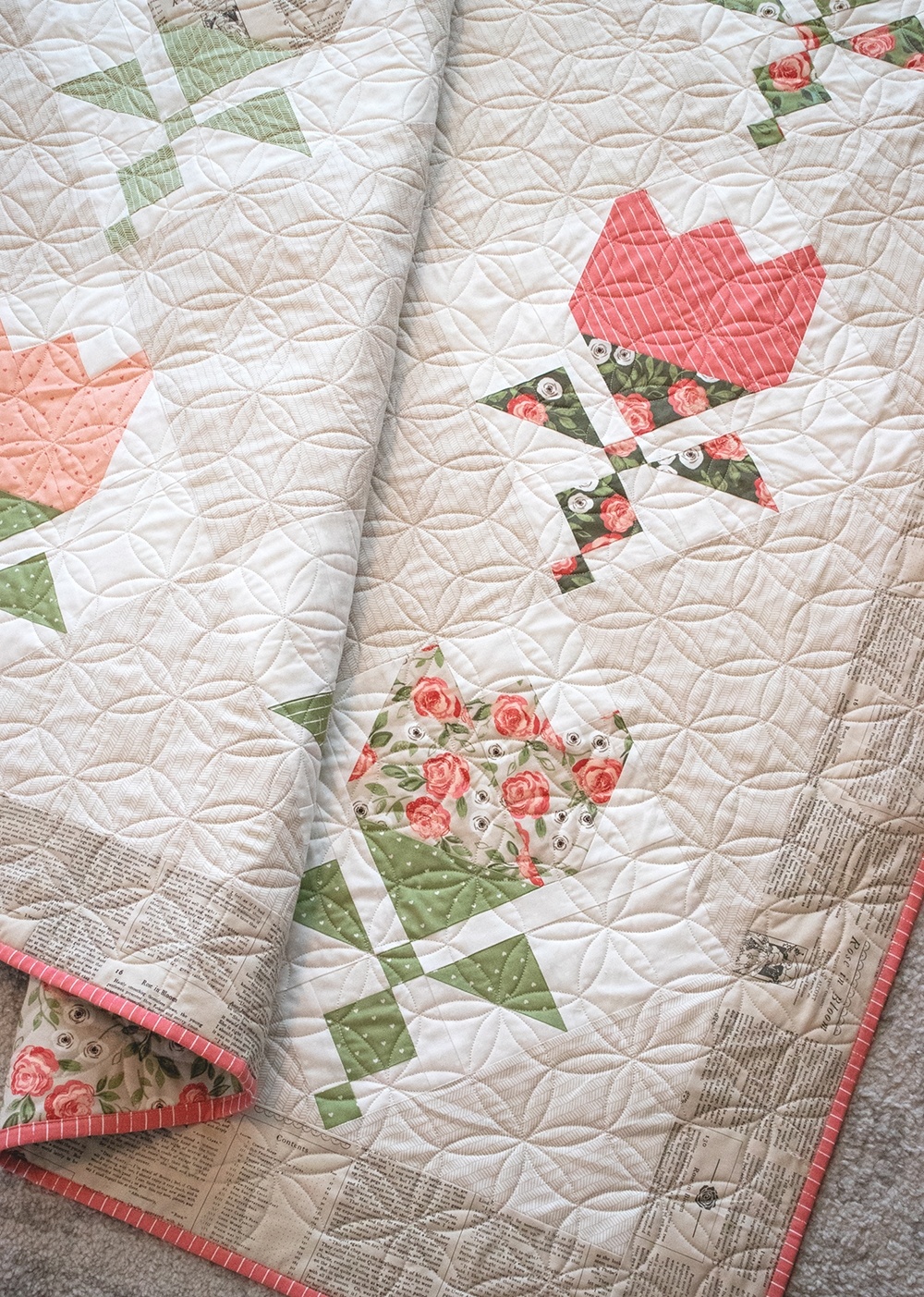 The Tulip Shop flower quilt by Vanessa Goertzen. Fabric is Love Note by Lella Boutique for Moda Fabrics.
Lella Boutique encompasses Goertzen's quilting blog, as well as her easy-to-follow patterns. Her blog beautifully showcases each of her designs and explains the inspiration behind them. She has also published two popular quilting books, Charm School– 18 Quilts from 5" Squares: A Beginner's Guide, and Jelly Filled– 18 Quilts From 2 ½" Strips: All Skill Levels. Both of her publications provide simple step-by-step instructions on how to piece together precut fabric for quilting by using the 5" squares included in a charm pack. Quilters can also cut squares from their own personal stashes in order to follow the patterns. These pattern books would be fun additions to any scrap-lover's library, and would no doubt provide plenty of quilting inspiration for use with the Love Note collection. Vanessa Goertzen's patterns have also been featured in American Patchwork and Quilting, McCall's Quick Quilts, and McCall's Quilting. 
Quilting is a pastime that is often lovingly passed down through generations. As many stitchers around the world will understand, Goertzen inherited her love of fabric and quilting from her mother, and was a self-proclaimed quilt addict by the time she was a teenager.  She has been designing her own quilt patterns since 2010, the year she opened Lella Boutique, after leaving her previous job to stay at home with her new baby. The name of her business was inspired by her childhood memory of a twirly pink dress that was sewn by her mother, one that Goertzen affectionately called her "lella dress"-- which was adorable toddler speak for "Cinderella." Goertzen continues to cultivate joy and beauty through the creation of her fabric collections and is currently living with her family in Utah.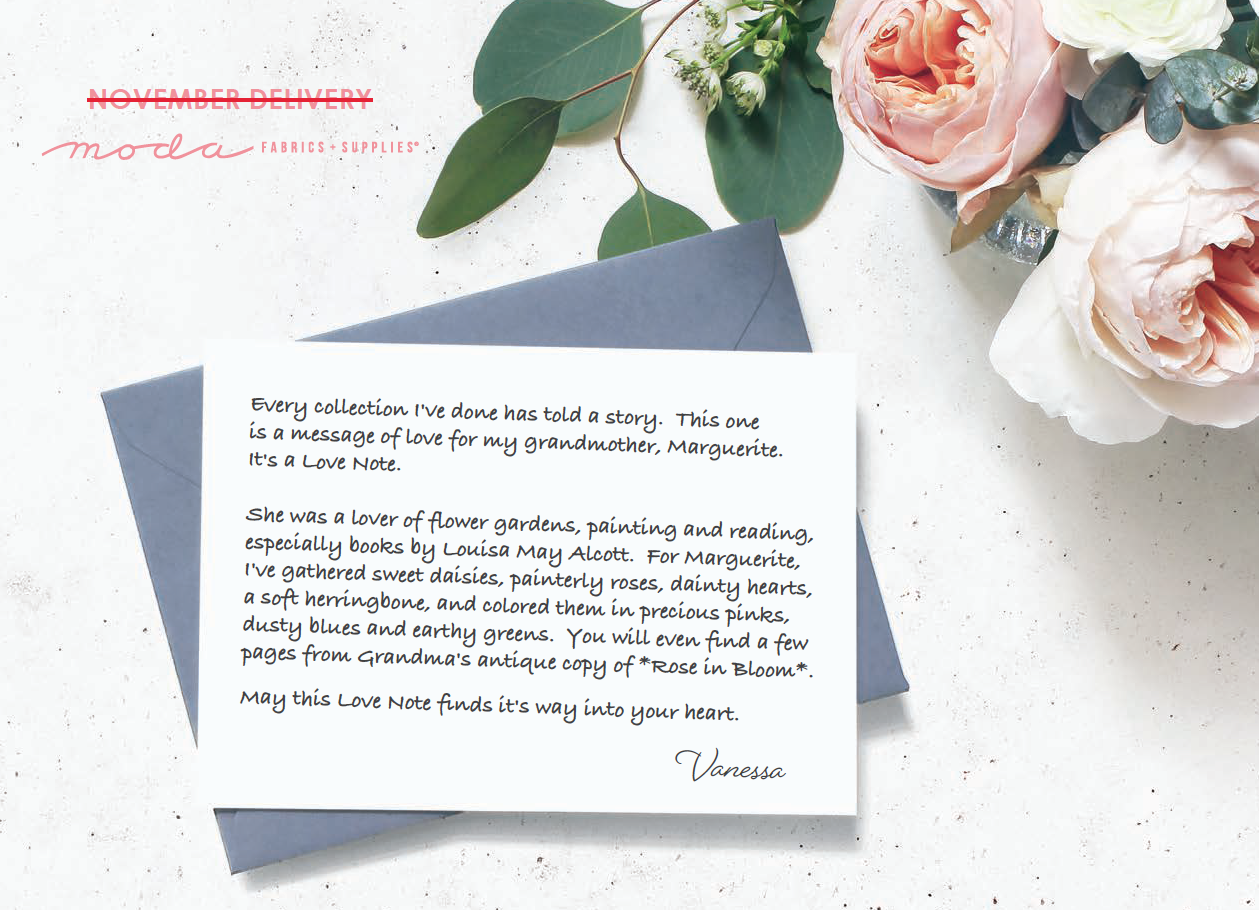 By Alicia Foreman for Mad Dog Fabrics.